By Brian LeBlanc
When I was diagnosed with Alzheimer's disease in 2014, I could've never guessed the path ahead. Crazy. Amazing. Uncertain. Scary. Rewarding. All rolled into one. All I knew was that I felt a calling toward dementia advocacy and to help others on similar paths with education and resources.
Fast-forward a few years, and I was absolutely honored, humbled and inspired to receive the Rhoda L. Jennings Distinguished Older Advocate Award from the Southern Gerontological Society. (OK, so Maureen jokes that seeing me "humbled" isn't something everyone can say, but it's true … 100% humbled to tears.)
The awards ceremony was held April 7 in Panama City, FL. The banquet hall was packed with so many wonderful people in the world of gerontology (a big, fancy word for aging), of which Alzheimer's and dementia care is just a small part. So there were doctors, scientists and researchers, university professors and other educators, advocates, influencers – all spanning different disciplines and areas of expertise across the whole South.
It was almost too much! Although, if you know me, the more people to chat with the better! (But again with my nasty habit of digressing.)
It was an honor to be considered a peer – even if just for a day – and to have my longtime efforts acknowledged toward Alzheimer's and dementia advocacy and education. When I went up to receive the world, it was the best feeling ever to turn back around and see these great folks standing and applauding.
And on a side note, I was so happy to be able to attend so soon after my recent pacemaker procedure.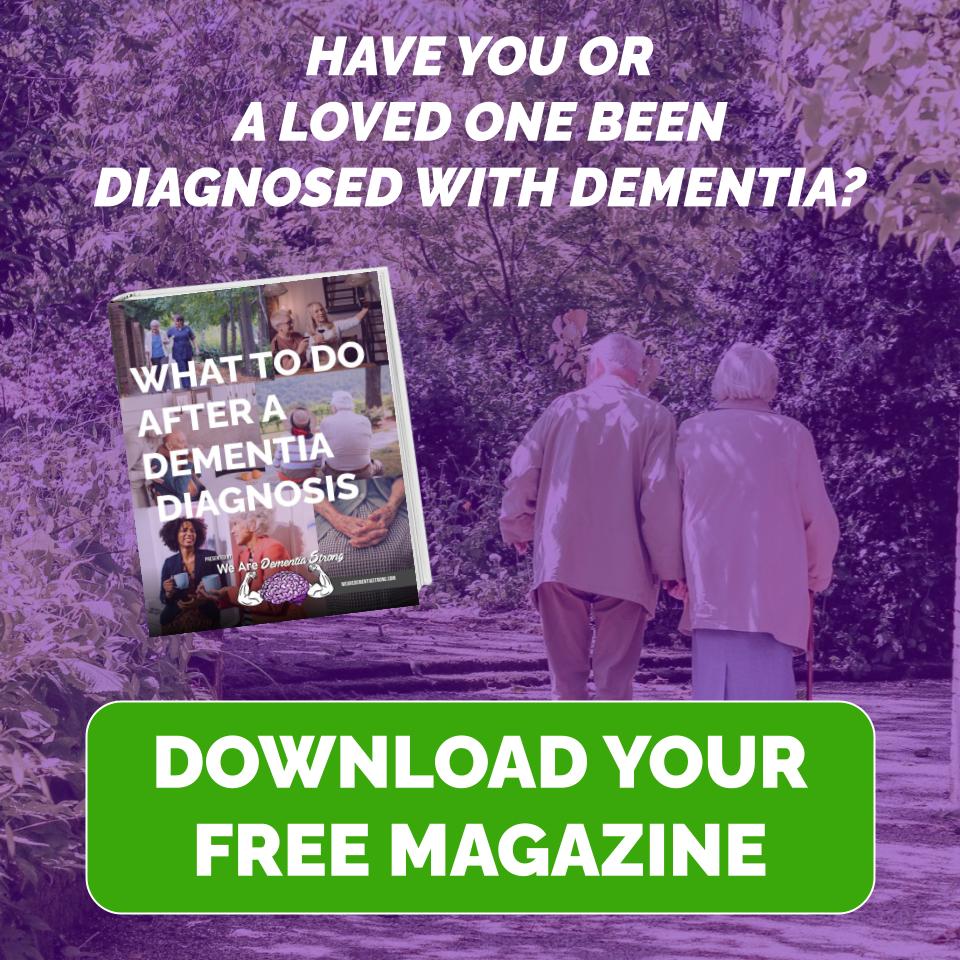 Dementia Advocacy Through Outreach and Education
But more important than all that? The mission. #WeAreDementiaStrong has been steamrolling with the dementia advocacy mission. Maureen and I have always worked so hard to produce educational content, and we've been very blessed that so many organizations have offered us platforms to speak and/or write as guests.
In the past 18 months, there've been some awesome developments:
And we're happy to say, there are even more irons in the fire! More education. More partnerships. More avenues for community outreach.
#WeAreDementiaStrong Is Here For YOU!
We walk this dementia path together. Maureen, the love of my life, is the absolute best care partner, life-care planner and Patient Advocate anyone can ask for. And we sincerely hope our lived experience – the good, the bad, the funny, the sad and the ugly – helps you in some small way.
We're honored for the recognition. But there's so much more work to do – while I still have breath in my lungs and perhaps a few healthy brain cells left to say what needs to be said.
Much love.
Peace,
-B