By Brian LeBlanc
Today we're doing a little happy dance because we're talking about the joy of dementia. Yup, you read us right (and you can hear us right on this very topic in our latest podcast). 
Maureen and I have been on this joy of dementia kick since returning from the Pioneering a New Culture of Aging Conference last month. One of my presentations alongside our friends at the Reimagining Dementia Coalition was titled "The Joy of Dementia (You've Gotta Be Kidding!)" 
One could be forgiven for believing only the latter half of that title. But it's not a joke. No one's kidding. You can and SHOULD strive for a life worth living with dementia.
We're uncovering so many ways to find this joy. (There's a lot to unpack here, so have a snack ready while reading this!)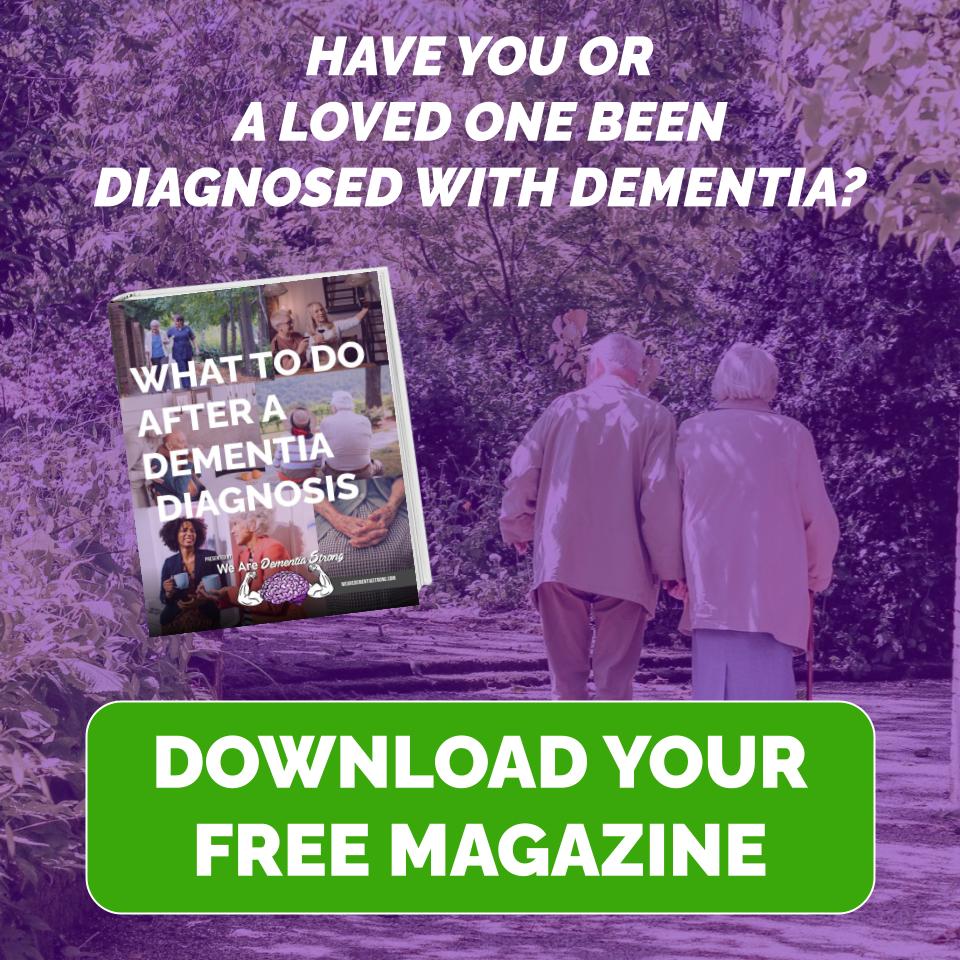 The Joy of Dementia (You've Gotta Be Kidding)
This isn't so much about what the Pioneer Network Conference presentation was, but how we can strive for all this. We've borrowed a quote from Marianne Williamson: The joy of dementia is acceptance, which allows us to feel joy. "Joy is what happens to us when we allow ourselves to recognize how things really are."
So poignant. So important to know. So important to understand.
Acceptance.
Accepting Dementia … On Your Terms
The first step is accepting a loved one or yourself living with dementia. Just accepting it. Not trying to change it. Not trying to predict the outcomes. Not trying to force anything to happen a certain way, or not happen a certain way.
Maureen and I say we both live with dementia – in body, mind and soul. My beautiful life partner/care partner can help me and schedules things 'til the cows come home – appointments, meetings, meals, activities, relaxation – but then dementia laughs. 
We've accepted that days will be hard and foggy. We've accepted we're only human and that we make mistakes and get frustrated. We've accepted that life has a 100% mortality rate – even without dementia.
Most importantly, we're working daily to always accept that we love each other dearly on this path together. Of course, laughter is always the best medicine. And I've now begun making it a point to express gratitude for life's daily blessings.
Life Isn't Over
People tend to think of any serious medical diagnosis as a life-ending event. Sure, cancer, diabetes, heart disease, dementia, what have you may be terminal, but you may also live years – decades even – past hearing the terrible news. Yet the underlying sentiment is that life is over or fundamentally changed by a diagnosis, at least the part that's good or that matters.
Pardon my French here, but the Ragin' Cajun is about to come out: That's bull shit.
I'm still me. I don't stop being me because I have Alzheimer's disease and vascular dementia. I don't stop being me because I have heart issues and diabetes.
There IS LIFE beyond diagnosis. As Maureen says, "At the end you can look back and be grateful for all that you've experienced, all that you've loved, or you can look back and say, 'Wow, I really wasted that time.'" Embrace the positive and do what you can to keep it.
Feelin' Good
We went to the Michael Bublé concert the other night. He's absolutely one of my favorite artists – the 21st-century Sinatra with a newer-age take on the upbeat, jazzy swing music that we danced to when I wore a younger man's clothes. My favorite song? "Feelin' Good!" It's so positive, uplifting and in-your-face confident!
It's basically my anthem. I definitely want it played at any end-of-life celebration that'll be held long after dementia takes everything (but I'll still recognize friendly faces and happy music). And when I kick the bucket, "Feelin' Good" had better be played at whatever wake, service or party Maureen throws (or I'll haunt her!). 
So let's focus on finding the joy of dementia through feelin' good!
We've also started going to the gym! It gets the blood pumping. When I get back, I feel … SO … GOOD! My brain feels more clear and aware. We're getting in the pool, doing yoga, the whole nine yards. At first, I was a bit hesitant – or rather downright against it. It sounded miserable. Something in my brain told me, "No, you're fine. You don't need it." But I haven't been fine for a long time.
Exercise is great, whether you're a person living with dementia or aging in perfect health. You could be fixing health issues you never knew you had – or preventing things that haven't happened yet.
We're aiming to sustain this part of the joy of dementia, as well. As Maureen says, "Who wouldn't be joyful sitting in a hot tub?" (Anyone wanna help with holding us accountable now?)
Joy in Music & Art
Music is just … wonderful. I play it every day, strumming along on my guitar to soothe the nerves. (Have I said this before? Oh, well, it's that important.)
It's not just playing music. Just sitting and listening to my personalized playlist does so much to clear the fog and bring clarity and light to the world. That's how powerful music and other art forms are, and how it affects the brain.
In Maureen's career as a Board-certified Patient Advocate, she often plugs music to families as the best medicine and therapy for dementia. Almost 100% of the time, she says, the families refuse to do it. I believe that most families either don't want to put in the work to develop a playlist – or they lack confidence that their loved one could work a device that plays music. 
Life would be utterly joyless without music. Don't deprive your loved one of that joy.
Friendly Conversation
Even body language and tone of voice when approaching someone with dementia has an impact. You know what I mean: the hushed tone, the head tilt, the overly exaggerated hint of sympathy. "How are you? Are you doing OK?"
It's meant with the best intentions. You ask because you care. But can you see how that undertone only perpetuates the "tragedy narrative" and stigma around dementia.
It automatically assumes the worst. It assumes that because I have dementia I must not be well. That a person living with dementia must be struggling. That it's all bad. That my existence is now defined by dementia. And that all this "suffering" must somehow be kept quiet.
Now, I may indeed be struggling that day. I may also be very aware, functional and happy. But as much as my Alzheimer's makes sure I need reminders, I don't need that reminder.
Our response to the "tragedy narrative" also has so much to do with the joy of dementia. Should someone approaching a friend living with dementia on the street be corrected or shamed for not knowing? Absolutely not. Should we let it ruin our day? Nope!
Does It Really Matter?
I'm a VERY social guy. I love telling stories – especially funny ones. If everyone's laughing, having a good time, enjoying the conversation, does it really matter if I flubbed up a detail?
Before reacting or responding to what a person living with dementia says, ask yourself, "Does it really matter?" Does it matter if I misremember a small part of something? No, and Maureen loves this example from our conversations for this reason.
Now, if we're at the doctor's office and I misremember a detail – or go on a tangent about something completely unrelated as I sometimes do – that does matter. And I thank Maureen for being so spot on about my care! (The doctors would probably be treating me for swine flu, if the details were left to me!)
Family Time
You didn't think I'd forget family, did you? There's always time for family! Family is the icing on the joy of dementia cake.
We love spending time with our young granddaughter, Emma. And the happy news is we're going to have another grandchild – another little one to SPOIL! (We're also going to have a very jealous 4-year-old, but she'll get used to it. Emma will always be special as our first.)
Quite often, the family is the inner circle of your care-partner team. They're the ones taking you to doctor appointments, planning meals and activities, spending quality time, etc. They build new memories – and help you remember old ones while you can. They help bring the joy. 
And we're proud to call you part of our family. Friends like you help, more than you know, with our joy of dementia.
Peace
-B