By Brian LeBlanc
In a world that can be so unfair, so dramatically cruel, so unforgiving, it's hard to stay in a positive mindset. Even if that's literally what you do every day – try to channel the happy, the humor, the spice of life. In the back of your mind, there's always something … something that can, in whatever way, push you off center and make it hard to appreciate life's true blessings.
I'm living with dementia. You know this. But I'm also trying something new these days. I'm living with and expressing gratitude – every day – even if it hurts to do it. You may have noticed on our Facebook accounts – particularly my page and the #WeAreDementiaStrong page – I've been sharing gratitude posts daily. (OK, not every day. I have Alzheimer's, remember? Forgive me for, uhhmmm, not remembering or being too foggy from time to time!)
But the practice holds true, for so many reasons. Maureen (my beautiful life partner/care partner) and I particularly love the sociology guru Brené Brown, who found in 12 years of research examining thousands of interviews and over 11,000 pieces of data that the most joyful people have one thing in common: GRATITUDE.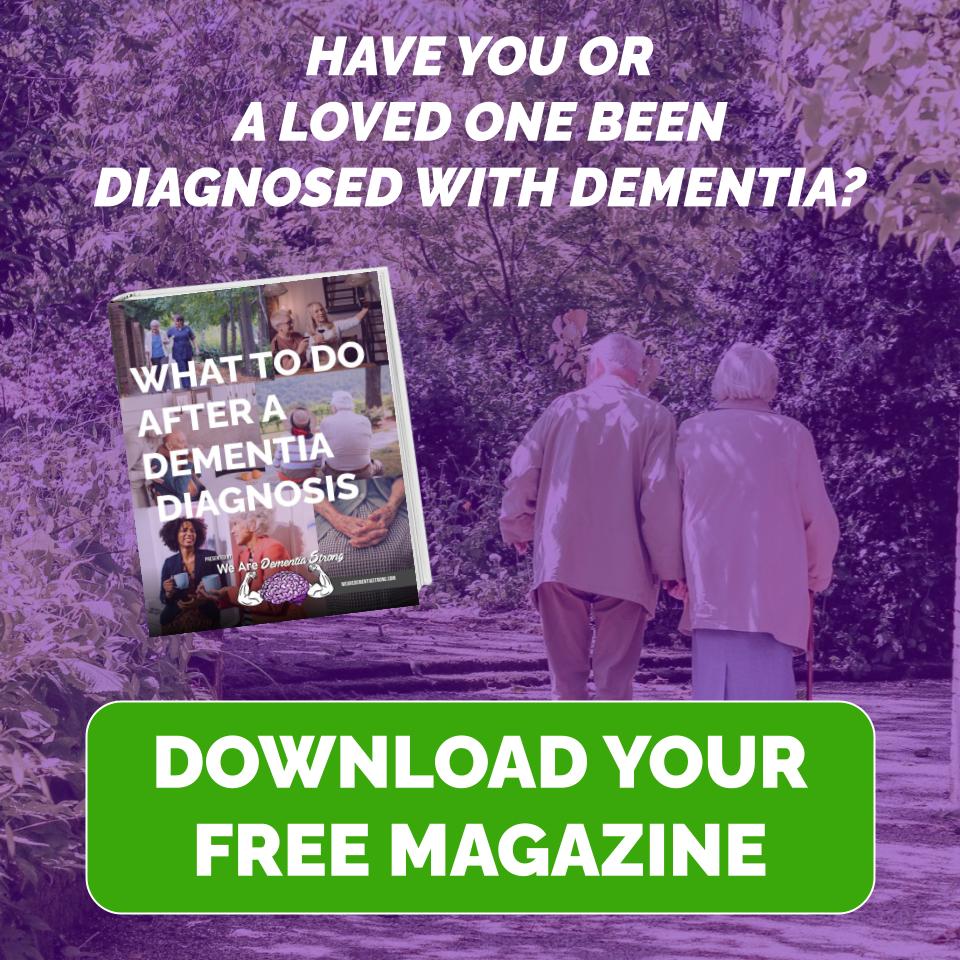 So What Are My Gratitude Posts About? A Life Worth Living With Dementia
So after a few cups (or a pot) of coffee and some reflection, I prepare a gratitude post. Just to throw it out there. A feeling driven from some experience with dementia often brings me to a powerful realization. Being grateful for the good things we do have has a wonderful way of lighting the darkest paths in life.
It just feels good. It makes others feel good.
I'm living with dementia, but thinking about the positives really helps to beat the depression that always seems to slink in. I'll share a few examples.
Gratitude for Capturing Memories
A person living with Alzheimer's and vascular dementia being grateful for memories? What's that called, an oxymoron? 
But it's true. I'm just capturing them in my own way.
Photos.
I'm a pretty decent photographer – my marketing background probably just gives me an eye for eye-catching things. But just with an iPhone I've been able to capture some of the most remarkable moments. (You've probably seen so many photos of the dolphins, snowy egrets and other ocean life right from our back patio overlooking beautiful Tampa Bay.)
But it's also the unremarkable moments. The everyday moments. The meals with Maureen, family and friends. The happy times shared in happy places. 
You can see all of the above in real time on our social media. I look through my phone and see them. I remember. And when I can't remember, they'll still make me happy. And when I'm gone, they'll help others remember.
Gratitude for Travel & Experience
Everyone should travel and experience the world. Not everyone gets to do that. Maureen and I are fortunate to be able to travel for business and pleasure. Just last month, we traveled to beautiful Denver to present for We Are Dementia Strong at the Pioneering a New Culture of Aging Conference. 
We've been all over Florida – and many states and countries beyond – to humbly receive recognition for our dementia advocacy and education work.
But sometimes the small, unexpected trips around here – perhaps to a winery, a concert, an ice cream shop, or even just a beautiful walk by the bay at sunset – are most meaningful.
Gratitude for Abilities
Just the other day, I put together an IKEA bookshelf for Maureen's home office. Unless you've looked at easy directions in English and had no idea what they said, it's hard to truly appreciate such an accomplishment.
Now, directions for some may be hard to follow in general. Try doing it with dementia. Days of focus and clarity are getting fewer and farther between. Maureen can tell when I need help when my language turns "colorful."
But that day, I did it! I felt capable again. The ability and knowhow is still there – even if it's sometimes hard to find it in the fog.  
Gratitude for Music
The benefits of art and music for dementia care have long been documented. They're better at restoring memory and cognitive skills than any expensive medication or treatment.
Think about it. Music takes us back. It recalls feelings from a first concert, a first dance with that special someone, a father/daughter dance, a smell, a taste, a distinct feeling from a profound moment long forgotten. It fires those dormant neurons!
I play music everyday – usually just strumming on my guitar – in order to keep my anxiousness at bay, to help clear fog, to calm myself when I get upset. It was always such a big part of my life, ever since I first learned to play when I was about 9.
There's always a song that can turn your anger to happiness and confusion to clarity.
Gratitude for Compassion
It's not easy to be me along this path of Alzheimer's and vascular dementia. But it's also not easy to help me along that path.
Caring for anyone living with dementia is no picnic. It takes compassion and understanding. The things that we're going through, it's just not my fault. If I can't remember something, or if I spend the better part of a week on the couch in a fog, it's NOT my fault. 
I didn't choose this. A compassionate care partner (like Maureen) understands that. She works with me, not for me – and serves out of love, not duty.
Gratitude for Maureen
You didn't think I'd forget her, did you? The only reason I've put her last (but certainly not least here) here is because the majority of my gratitude posts are devoted to her!
I'm always grateful for Maureen. Every day. Every single day.
She's the appointment maker. The organizer. The rememberer of things I can't remember. The filler of blanks. A comforter when I'm upset and overwhelmed. Heck, just the other night, I was having my dementia-related hallucinations – I call them "visitors" – and although she can't see or hear them, she often starts yelling at them along with me (or even throws a slipper in their general direction).
It comforts me to know she's my protector and always on my side against these trials – real and imagined. I wouldn't be alive today without her. I love her so much!
So, Yes, I Am Grateful Every Day While Living With Dementia
I'm grateful for a lot more. Far too many people, places and things to mention here.
I'll continue with these gratitude posts as long as I can. It's so much better than the alternative. If you stop – even a few seconds each day – to think about the good – it can make the absolute worst circumstances feel that much better. Trust me!
Peace
-B